Many times the thing that prevents people from trying to make money online is the fact that they have to have unique content in order to rank and get that targeted traffic we all desire. If you are like me your day is filled with other stuff and the last thing you want to do is come home and write a 1000 word article about fish or whatever niche. So I searched far and wide for the best way to get free content without having to spin stuff that is unreadable and by the time you make it readable you should've just wrote it yourself.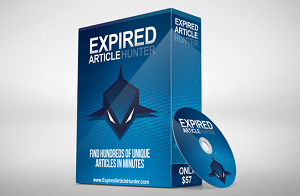 Now that the internet has been around for almost 30 years there has been a lot of marketers work hard to write plenty of articles that they designed to rank in the big g. Now some of those folks have gave up, some have died, and some just started a new projects after realizing they didn't want to do the niche they was in.
So once people leave those websites behind and they eventually shut them down they have all that content that is almost gone forever! I hope you see where I am going with this….There is a software that pulls the urls of these expired domains and they find there articles on the wayback archive!
That means you have old content that you can easily make new and fresh! All you have to do is print it on your website although I would check it for errors and freshen it up a tad if it looks old.
The software is called Expired Article Hunter (You can check it out by Clicking Here)  They have a sample so you can try it for free so I would check it out.
If your thinking "I thought you said free Smoot?!?!" I did say that so get your ass to work and earn it, hahaha. And I wanted you to read the damn article, it worked didn't it? Honestly though the software pays for itself. Can anyone say fiverr gig? Seriously if you don't want to take the time and rank in the big g, just head over to Fiverr and start a new campaign that you will write articles copyscape passed for $5.
I did leave out that part too, it checks for plagiarism and copyright so you can make sure you get the best unique content.
I try to not push to much software on you guys because I know most of you are trying to make money online and not spend it but sometimes you have to invest a little bit and this is a wise investment and I wouldn't ask you to spend money on something that  would cause you to be out of anything if I didn't think you would earn it back and then some.
The only cons I see it in is that you have to double check and make sure the articles are not already on the web. The way I do it is I run them through SEO Tools Plagiarism Checker 
Also if your a domain seller it's a great way to find expired domains! I usually don't go all into something but this is really worth it and more. I just started using last week and I've already made 4 websites so I after some backlinking I"ll have to let you know how they rank but until then give it shot. Also if anyone else uses EAH let me know below I'd love to hear yal's experience with it.
Get Free Content Check Out Expired Article Hunter by Clicking Here